Main content starts here, tab to start navigating
COVID-19 Response
Note: for ongoing COVID-19 Updates, click here.
At Honest Mary's, the health and safety of you and our team are our top priorities.
We are closely monitoring guidelines regarding COVID-19 and taking increased precautions by reinforcing health & hygiene protocols for all team members.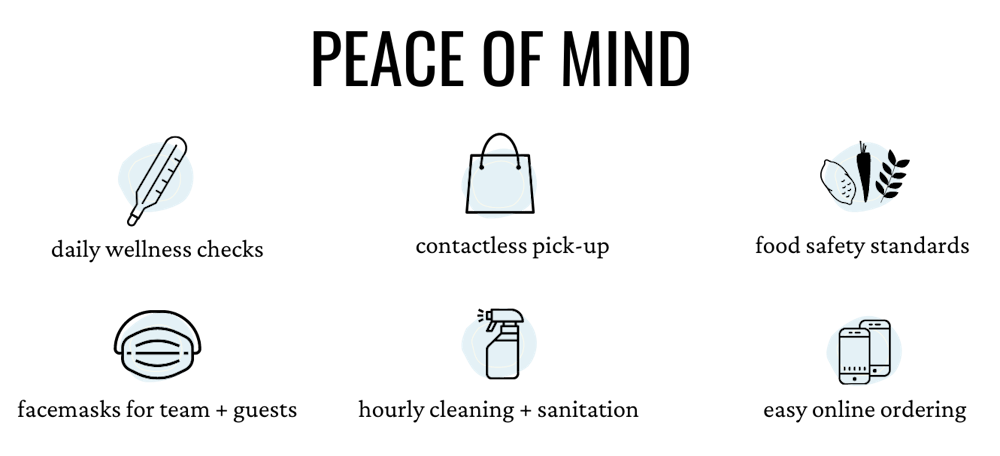 To best protect you and our team, we are taking the following actions:
Daily Team Member Wellness Checks

Daily tracking of our teams' temperatures to ensure that no one has any symptoms, nor have they been in contact with anyone who has symptoms.

Enhanced Cleaning & Sanitation

Continual cleaning and sanitization are part of our team's normal rhythms, but we're doubling down on these efforts during this time.
Every hour we are sanitizing surfaces, washing our hands, and changing gloves.

Protective Face Masks for our Team

Using the best face masks we can find or make, our whole team will be wearing face masks each day.

Contactless Pick-Up

We have set up our pick-up and curbside to be completely contactless at both locations.
Place your order online or at the store. We'll bring your bag to the shelf in the doorway for you to grab and go.

Contactless Delivery

For Family Meal deliveries, our drivers are wearing gloves the entire time and changing them between drop-offs. We'll leave the meal at your doorstep and knock to let you know it's arrived.
We are so grateful to you, our incredible team, and the entire Austin community.